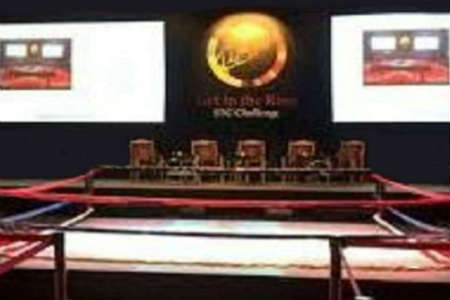 Wednesday evening the winner of the national final in Saudi Arabia of the international investment competition Get in the Ring, better known as 'The Olympics for Startups' was selected in Riyadh. It was the first ever Get in the Ring event hosted in the Middle East after Get in the Ring started a strategic partnership with Saudi Telecom Company (STC) earlier this month.
After surviving a pre-selection round, the 8 most promising startups of Saudi Arabia were selected to battle for the national title of Get in the Ring: Saudi Arabia, STC Challenge and a place in the Regional final for the Middle East taking place on the 5th of November in Riyadh.
The startups battled in front of the Champions (jury), which consisted of five well-known entrepreneurs and investors in Saudi Arabia. After only four of the eight contestants were left, the final decision was up to the audience, the majority of the votes went to Sawerly, beating the likes of CallTech, 3Omlti and AYA Games. Commenting on his victory, Hussein Attar from Sawerly said "It was a different, but very exciting event. We feel it helps entrepreneurs in Saudi Arabia and around the world believe they can make a difference with their innovative and world changing startups." Sawerly participates in the Flat6labs Jeddah accelerator program by Qotuf, one of the network partners of Get in the Ring from Jeddah.
The next step for Sawerly is to battle winners from countries in the Middle East like Jordan, UAE, Lebanon, Pakistan, and Egypt in the Regional Final. The battles continue on November 5th!
Startups competing in the national final:
Sawerly is an online marketplace to connect photographers to people who need their services. www.sawerly.com
Smartable is an innovative Ed-Tech platform to guide you to the best fit career, and reward you for doing so! www.smartable.me
Calltech is works to develop and provide its innovative technical services to the education sector, by creating modern solutions that help to create a safe and convenient educational environment. www.calltech.com.sa
Wahed Sefer is the first interactive social platform for football fans where they can predict matches, get the latest info and win prizes. www.wahedsefer.com
Saeeh brings together travelers and travel agencies on an online platform for a better match to arrange travel plans, saving time and money. www.saeeh.com
AYA Games is a mobile/Social gaming studio entirely focused on serving the Arab world with games tailored for the language and culture of the region. www.ayagames.co
3Omlti provides an innovative payment gateway for the Middle East market with strong connections in the regions financial sector.
Mediafun is a tech company that focusses on empowering knowledge and entertainment through smart access to audio, video and streaming content through a device and cloud based service.
Champions (jury)
Rakan Al Eidi, Managing Director Endeavor Saudi Arabia
Sharaf Al-Dabbagh, Founder Entrepreneurs & Investors Network
Ahmed F. Almaziad, General Manager of Business Development & Innovation at STC
Nawaf Al Sahhaf, CEO Badir Program for Technology Incubators
Faris Ibrahim Alrashed, Chairman of Investors Network Oqal