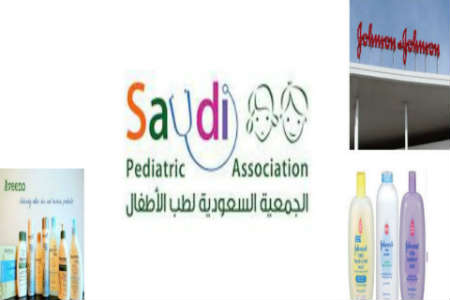 The future of infant healthcare in Saudi Arabia has been strengthened by a new strategic partnership between the Saudi Pediatric Association (SPA) and Johnson & Johnson Consumer Saudi Arabia Limited, part of the Johnson & Johnson Family of Companies ("Johnson & Johnson"), which owns and operates both the Johnson's® Baby and Aveeno Baby® brands.
The three-year scientific cooperation program announced today at the Marriot Hotel in Riyadh, will benefit healthcare in the Kingdom with a roadmap to enhance baby skincare awareness, promote education and resources for healthcare providers, and also provide opportunities for free consultations and check ups.
In kicking off the special partnership, SPA has officially endorsed Johnson's Baby and Aveeno Baby products available throughout the region. The trust of Parents in both brands is reinforced as the baby ranges are now officially "Endorsed by SPA".
Customers will also benefit from an enhanced awareness of emerging skincare solutions among the nation's healthcare providers, pharmacists and students, thanks to closer links between the organisations. To further that goal, Johnson & Johnson Consumer Saudi Arabia Limited is committed to be the main sponsor for two upcoming SPA conferences; the Pediatric Update Conference in Madinah, and the SPA Pediatric Seminars and symposia.
The American multinational will also provide accreditation for continuing medical education (CME) with modular courses from Q2 2018 aimed at healthcare providers and pharmacists in Saudi Arabia.
Na'am Jamshed, Johnson & Johnson's senior director for Government Affairs and Policy, said: "Behind every purchase is a parent who cares deeply about their child, and that child deserves the very best from us and our products."
"Johnson & Johnson is once again demonstrating its commitment to help enhance healthcare provision in Saudi Arabia, not only through high-level transformational partnerships, but also due to decades of refined ingredient selection, formulation and manufacturing," she added.
With a global research and development budget of almost US$ 9.1 billion in 2016, Johnson & Johnson has been as dedicated to science and progress than it is right today. And one of Johnson's core aims is to ensure that families across the region have access to the safest, most rigorously tested products.
To date, Johnson & Johnson has pioneered global research on skincare research and has helped advance 90% of publications on the subject. The brand has also published more research on baby skincare than any other global skin care company over the last five years, ensuring the entire product range is certified to be environmentally friendly and cares for the unique needs of young children.
Trusted by parents and healthcare professionals for more than 125 years, the company's dedication to safety starts with its 5-Step Safety Assurance Process. A key element of that process is to ensure that products are composed of safe raw materials, therefore Johnson's and Aveeno only accept materials from vendors that meet rigorous quality and safety standards.
 Aveeno is a world-leader in skincare that utilises active natural ingredients to deliver greater benefits for the skin. Aveeno's Active Naturals Ingredients follow the highest standards of ingredient selection, formulation and manufacturing, and the brand places emphasis on utilising processes that retain the strength and purity of its ingredients.
Regardless of Johnson's and Aveeno's reputation and combined track records as world-class baby skincare brands, Johnson & Johnson still had to complete a rigorous evaluation by SPA. The parent company presented research about the products and their ingredients, as well as the stringent safety measures that the multinational employs across all of its global divisions.
Dr. Abdullah Al Omair, president of the Saudi Pediatric Association said: "For more than three decades our organisation has been contributing to healthcare efforts aimed at making Saudi Arabia one of the safest countries in the world to raise a child. This key partnership with Johnson & Johnson Consumer Saudi Arabia Limited is yet another step toward realising that future and taking infant healthcare in the Kingdom to the next level.
The SPA was founded in 1981 under the umbrella of King Saud University in Riyadh. It is a scientific medical association and aims to support and enhance knowledge and resources for paediatric care, through research, published materials and continuing medical and healthcare education.