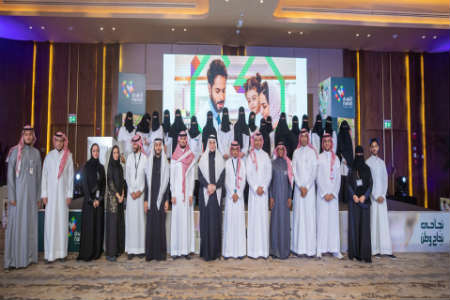 In a step towards implementation of its strategy and contribution to achieving the Kingdom's vision 2030 and the National Transformation Plan, Nahdi Medical Company has been undertaking campaigns for nationalizing jobs every year to join the work force across its branches all over the Saudi cities as well as its HQ. Yesterday, Al NAHDI concluded its latest "Career Fair" to support Saudi talents among female and male pharmacists under the campaign "#My Success, My Country Success", at the Marriott Hotel in the diplomatic area in Riyadh.
The most prominent attendees were representatives from the Ministry of Health, the Ministry of Labor, and the Human Resources Development Fund. The career fair continued for two days, as potential candidates submitted their applications, that were subject to evaluation, and their capabilities were verified against the main job requirements. And those who passed the exam, matched the job description, and were qualified to the final stage, it was agreed with through an employment contract where then they will get job directions and trainings. By the end of the fair, 63 pharmacists and eight diabetic health professionals were hired to be added onto the total of the 1,700 Saudi employees of Al Nahdi.
Eng. Yasser Joharji, CEO of Al Nahdi Medical Company, said: "We affirm the compatibility of Al Nahdi Nationalization's strategy with the responsibilities of the private sector in supporting Saudization programs and creating real and sustainable opportunities for Saudi talents to achieve the goals of the National Transformation Program."
"We consider investment in human capital and the development of qualified national talents as part of the company's efforts to support the national economy and promote sustainable development career paths that serve the Kingdom's Vision 2030, which is an ambitious nation as well as strengthening the national character by qualifying the national talents" Joharji added.
Al Nahdi continues its Nationalization campaigns including: its campaign (#our hope grows with you), & (#my success my country success) in order to create new opportunities for Saudis in the pharmacy sector across both genders, through coordination with universities to allow pharma students of colleges in the Kingdom to overgo practical experience within the pharmacies of Al Nahdi and the preparation of Saudis for their career path, through training and qualification programs, provided by "Nahdi Academy".