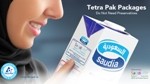 In partnership with the Saudi Pediatric Association (SPA), Tetra Pak held a press conference in Riyadh aiming to raise awareness on the benefits of long-life milk as a natural milk source maintaining all its nutrients but with a longer shelf life and no added preservatives. The press conference was attended by representatives from both Tetra Pak Arabia Area and SPA as well as a number of health professionals marking the occasion of "World Milk Day" that will be celebrated on June 1st.
Dr. Abdullah Al Omair, Chairman of the Saudi Pediatric Association, thanked Tetra Pak Arabia Area for its efforts in preparing for the press conference and said "we aim through our partnership to increase public awareness and mitigate the mis-conceptions about long-life milk. Long-life milk contains all the necessary nutrients and has a longer shelf life without any additional preservatives.  The Saudi Pediartic Association is keen to support the best nutritional solutions that maintains and develops our children's and coming generations' health and wellbeing. Our partnership with Tetra Pak Arabia Area builds on the company's achievements in using the latest technologies in processing and packaging foods and drinks in compliance to international standards and that of the Saudi Food and Drug Authority (SFDA)."
Riccardo Castagnetti, Marketing Director Tetra Pak Arabia Area said "We take pride in our partnership with the Saudi Pediatric Association in helping to increase public health awareness among the Saudi community and reverse the mis-conceptions about long-life milk which is processed and pasteurized without any added preservatives and is suitable for children. This partnership is an integral part of our drive to develop a responsible, healthy and conscious society. Our state-of-the-art technologies provide customers and end consumers special packages that protects milk against light and bacteria through the best possible and available processing techniques to offer preservative-free natural milk."
As a result of this partnership, a series of public awareness conferences will be held with the participation of highly influential people in different cities of the Kingdom. On 3 May 2014, Tetra Pak Arabia Area launched a marketing campaign promoting long-life milk, in collaboration with Saudia Dairy & Foodstuff Company (SADAFCO), with its flagship brand Saudia milk. The campaign aims to increase health awareness on the benefits of long-life milk and reverse any mis-conceptions. The campaign was launched under the SPA endorsement message "Tetra Pak packages do not need preservatives" through an integrated communication platform using the Saudia white milk packages, billboards and online.
Long-life milk is treated using Ultra- high-temperature processing which is one of the most advanced techniques which offer milk an extended shelf life maintaining its healthy nutrients. The process starts by heating the milk up to 145 degrees for 3 seconds and then cooling it down to 20 degrees, a treatment which preserves all its nutrients for longer. Tetra Pak advanced packaging solutions secures UHT processed  milk in six- layered packs, manufactured according to international standards, hence ensuring the milk's taste and nutrients remain intact as long as the carton is sealed.
Tetra Pak Arabia Area sold more than 8.5 billion packages in 2013 to countries in the Arabia Area and more than 178 billion packages globally, to leading food and beverage companies. The headquarter for the region is based in Jeddah where the factory for packaging material is located.