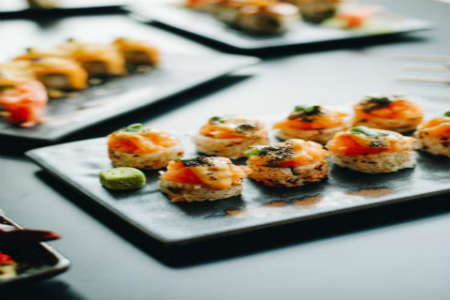 Japanese koi restaurant announced its final preparations to open its doors for visitors in the Saudi capital. The prestigious restaurant will be led by the international Japanese chef Kadak. Koi will offer new and innovative dishes, which is the first of its kind in Saudi Arabia through mixing between Peruvian cuisine and Japanese cuisine. The restaurant is also distinguished by its unique location that makes visitors easily accessible. Visitors to Koi Restaurant will enjoy the drinks menu signed by the most important experts in preparing cocktails, to experience unparalleled food and drink tastes.
Koi Restaurant offers a Japanese atmosphere of modern culture and ancient Japanese traditions, and the menu includes many varied traditional dishes and appetites that Japan is famous for with a touch of modernity to satisfy all tastes, as it varies between soups, appetizers and salads of all kinds, as well as sushi, Maki and Sashimi, and Tamaki in addition to varieties Teppanyaki, Yakitori, Japanese noodles and rice, and their various dishes that depend on seafood, to satisfy the desires of Japanese cuisine lovers in Riyadh.
Chef Kadak said: "Koi Restaurant was established to enjoy your food leisurely and hand over your senses to music and live in the atmosphere of the restaurant, which comes most of its components directly from Hakodate Asaichi, that means the morning market in the city of Hakodate, and we have worked to develop the menu to focus mainly on the purity and quality of the ingredients, which will change in a way seasonal".
It is noteworthy that Koi restaurant is located in the Crowne Plaza Riyadh – RDC Hotel and Convention Center, which is one of the largest hotels at Crown Plaza at the Gulf level.