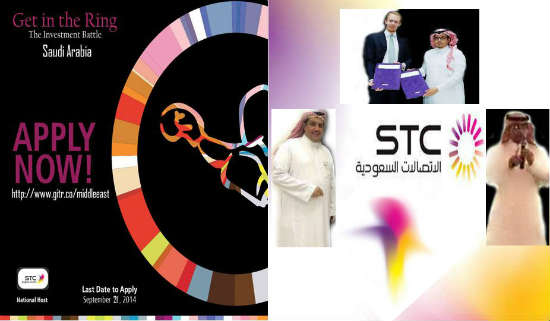 We are proud to announce the first National Final of Get in the Ring: Saudi Arabia, STC Challenge. On the 24th of September eight of the most promising startups in Saudi Arabia will battle in the Four Seasons Hotel in Riyadh, Saudi Arabia. The goal of Get in the Ring is to put startups in the spotlight, giving them a global podium from which to connect with investors and create a fan base.
In four battles two startups literally face off against each other in the ring. During five brief rounds they present their startup to a jury of Champion investors, and an audience of potential investors and fans, in a competition that can result in a potential investment for the winner. Their goal? Become the National Champion of Get in the Ring: Saudi Arabia. Do you want to be part of this unique experience? Scroll down, and reserve your spot in the audience!
Programme
Registration: 15:30
Opening Remarks by host: 16:00
Introducing Jury & keynote: 16:10
Battle 1 & 2: 16:40
Short Break: 17:20
Battle 3 & 4: 17:40
Final Battle & Voting: 18:20
Announce Winner: 18:40
Networking: 19:00
End event: 20:00
About STC Challenge
"It is very exciting to partner with the Get in the Ring initiative. I am certain it will prove equally exciting for young start-ups with innovative concepts and sound plans. We truly hope this competition will help fuel the passion for achievement and innovation among more people in the region," said STC's Senior Vice President of Technology and Operations, Dr. Khaled Biyari, on the recent partnership with Get in the Ring. "The Middle East region offers unlimited potential to the global economy. Through this competition, we can demonstrate our value on a global stage."
To register as visitors from this link
https://www.eventbrite.nl/e/get-in-the-ring-saudi-arabia-stc-challenge-registration-12655848985?err=29
If you are a startup and ready to face off other promising startups in Saudi Arabia?
First, Read this information carefully before you register :
Application Criteria
Startup has an innovative and scalable business model/idea
Startup exists no longer than 5 years
Entrepreneur is proficient in the English language
Startup is seeking an investment (money, time, advise)
Selection Criteria
Team qualifications and experience
Achievements
Scalable and innovative business idea and/or model
Market opportunities
Investment proposition and fundability (Most important criteria!)
Prizes National Final (worth up to €2.5k)
National Title of Get in the Ring: Saudi Arabia STC Challenge
A spot in the Regional Final of Get in the Ring: Middle East STC Challenge
Equidam Startup Valuation Report
Regional exposure for your startup
Now if you are ready to register startup  from this link
Note : Registration Deadline: September 21st, 2014
http://getinthering.co/events/register-saudi-arabia/
The Saudi Telecommunication Group provides integrated mobile, fixed and broadband communications services to over 160 million customers globally. The company is Headquartered in Riyadh, Saudi Arabia. Saudi Telecom Company (STC) is the largest telecommunications company by market capitalization, total revenue and number of employees in the Arab State region. In the last few years, STC has moved beyond its domestic borders into the international markets, forming a network of businesses and investments in a number of GCC countries, Asia and Africa. The company is now present in Kuwait, India, Malaysia, Turkey, South Africa and Bahrain, enabling STC to serve a greater number of customers internationally.