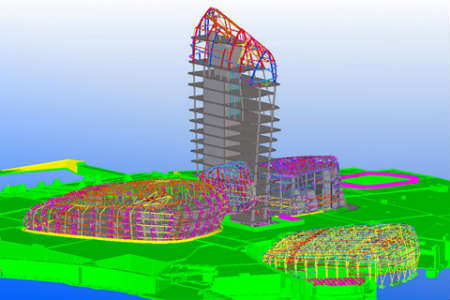 The Kingdom of Saudi Arabia's USD 1 trillion worth of infrastructure projects will require the most advanced construction software, industry specialists announced today at Saudi Build.
As the GCC's largest construction market, the Kingdom hosts USD 1 trillion worth of upcoming construction projects in residential, healthcare, education, and transportation, according to the Deloitte report "GCC Powers of Construction 2014".
"From mixed use megadevelopments to sports stadiums, the Kingdom is attracting the world's top architects, who are designing increasingly complex projects that require the latest 3D Building Information Modeling (BIM) software," said Anwar Al Qwasmi, General Manager of Tekla – Kingdom of Saudi Arabia.
BIM enables architects, engineers, and project managers to deliver projects on time and within budget, providing reliable feasability studies for the design, build, and operating phases, according to Tekla, which offers the Tekla BIMsight solution.
Demonstrating strong demand, the global BIM market will grow from USD 2.6 billion in 2013 to USD 8.6 billion in 2020, according to researchers MarketsandMarkets.
At Saudi Build 2014, Tekla, which has opened offices in Riyadh and Dammam, is showcasing its advanced BIM software solutions, and its prominent projects in the Kingdom including the Capital Market Authority Headquarters, King Abdullah Financial District, and the King Abdulaziz Center For World Culture.
"Tekla is a longtime supporter of the Kingdom's projects, and is exhibiting at Saudi Build to drive construction projects in the Middle East and the Kingdom," added Anwar Al Qasmi. "Tekla is eager to leverage the expertise in designing World Cup stadiums to help the Kingdom construct its planned 11 world-class stadiums."
Tekla technology was used in 10 of the 12 stadiums at the 2014 FIFA World Cup Brazil, including the Arena Amazônia, whose construction company Martifer Construções improved productivity by 20 percent and efficiency by 30 percent.
The recent partnership between Tekla's parent company Trimble, and Gehry Technologies, the technology company created by the world-renowned architect Frank Gehry, will further enhance the BIM market in the Kingdom.
or more information on BIM and Tekla, visit Tekla's website www.tekla.com.