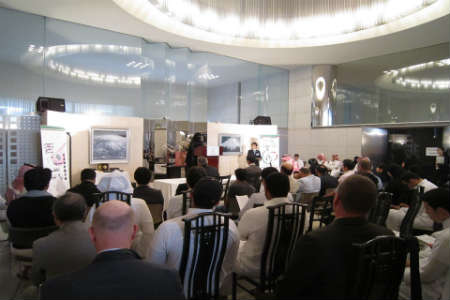 the Embassy of Japan, in cooperation with the Ministry of Culture and Information, held the 7th Japanese Language Speech Contest in Saudi Arabia at the Japanese Ambassador's Residence in Riyadh.
Six participants from all over Saudi Arabia gave their speeches in Japanese language. "Japanese Language and Arabic Language" or "Me and My Teachers" were the themes given and each participant chose on of them. All the audiences were fascinated by the fluent Japanese of their speeches with unique stories and gestures during the speech.
There were two levels in the contest, Standard Level and Advanced Level, depending on total length of stay in Japan. The first prize winner of the Standard Level was Ms. Atheer Khaled Alsoghayer, the second prize winner was Mr. Yousif Adel A Aljomaih. For the Advanced Level, Mr. Saad Mohammed S Alsufayan won the first prize and Mr. Saad Nasser Alhuresen was awarded the second prize.
At the opening of the contest, Charge d' Affairs, Mr. Katsuhiko Takahashisaid: We are happy to hold the Japanese Language Speech contest this time in the framework of 60th anniversary since establishing diplomatic relations between japan and KSA. This is the 7th Japanese Language Speech Contest, but until the 4th contest, it was only among the students of the Japanese Language Course of King Saud University. Since last two years, and for the first time in Saudi Arabia, the contest was expanded to the public, as it achieved large participation of those who have different backgrounds. In addition to that, participation of women has started since then. There are a number of female participants this year which makes me feel happy".
He added"Now, there are more than six hundred Saudi students studying in Japan. Those students who finished their studies in Japan are now playing important roles in various fields in Saudi Arabia. We will try our best to do every support in order to increase the number of people who are interested in Japan and will be the bridge between the two countries. In addition to that we will also try hard to expand Japanese Language in the Kingdom of Saudi Arabia".