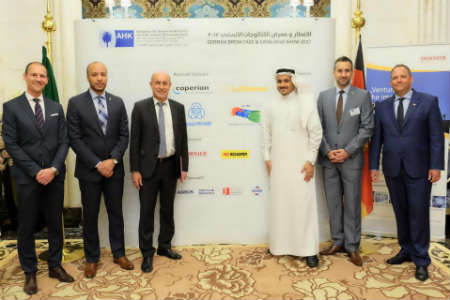 As every year since 2004, the German-Saudi Arabian Liaison Office for Economic Affairs (GESALO) invited businessmen from Saudi Arabia to the German Breakfast and Catalog Show. On April 20, 27 German companies exhibited their product and service portfolio to an audience of more than 150 representatives from company, business chambers, and ministries at the Narcissus Hotel and Residence. Co-organized by the Riyadh Chamber of Commerce and Industry, the event attracted great attention among the local business community and was a huge success.
The opening ceremony was headed by GESALO Delegate Oliver Oehms. He told the guests that "this is the largest catalog show in many years, which demonstrates the importance of the business relations between our two great countries". He added that "German companies stand ready to support the Kingdom in realizing the Vision 2030 by offering high-tech products and know-how in order to add to the diversification of the economy, especially strengthening the role of small and medium-sized enterprises."
H.E. Dieter W. Haller, Ambassador of the Federal Republic of Germany to the Kingdom of Saudi Arabia, said that the large number of German companies participating in the Catalogue Show reflects the growing interest of the German private sector in an engagement in the Kingdom.
"The vision 2030 is a most ambitious blueprint for a modern and diversified economy that is not only resource-based but above all knowledge-based." And he continued: "I am sure that the upcoming visit of Chancellor Angela Merkel to the Kingdom of Saudi Arabia will give a big boost to take our relations to new heights."
thyssenkrupp CEO Thomas Dreiling and representatives from Lufthansa, BMW, and V-LINE greeted the guests and wished them a successful event and promising business talks. The event was sponsored by major German companies, which all have been reliable and long-lasting partners of Saudi Arabia. Platinum sponsors are Lufthansa, thyssenkrupp, V-LINE, and coperion. Other sponsors include SSI Schäfer, Dornier, Airbus, Dress & Sommer, Fuchs, Gerolsteiner, Rheinmetall.
Many guests praised GESALO for the perfect organization of the event and confirmed that it becomes better every year. The German Breakfast and Catalog Show is an important platform to strengthen the ties between German companies and their Saudi partners and opens the door for other German companies to showcase their products and services to the largest GCC market.
The German Breakfast and Catalog Show has been a huge success for the last 13 years. It has a long tradition to set the ground for enhanced bilateral trade relations, which amounted to almost 8 billion EUR (32 billion SAR) in the year 2016. This event is only one out of many different efforts GESALO undertakes to strengthen the ties between Germany and Saudi Arabia. This event will continue in Dammam (May 2), Tabuk (May 15), Jeddah (May 16), and Manama, Bahrain (May 17).