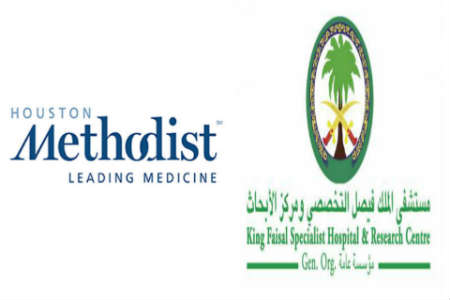 King Faisal Specialist Hospital & Research Center (KFSHRC) and Houston Methodist Hospital (HMH) have renewed an existing Memorandum of Understanding (MoU) for the fourth consecutive time as a result of the positive impact their cooperation has made on the Saudi Arabian healthcare industry since 2009. With the three-year MoU in place, KFSHRC and HMH will focus on implementing new frameworks to support the development of the professional healthcare community and to improve patients' lives.
The MoU was signed by H.E. Dr. Majid Al Fayyadh, CEO, of the General Organization of King Faisal Specialist Hospital and Research Centre, (KFSH&RC), and Ms. Cathy Easter, CEO of Houston Methodist Global Health Care Services, and will see KFSH&RC and HMH evaluate the feasibility and opportunity for benchmarking across a number of key areas related to quality and patient safety such as clinical pathways (tools used to guide evidence-based healthcare), mortality rates, clinical indicators, and patient satisfaction.
The three-year MoU will explore the advancement of projects including providing staff with clinical and leadership training programs in Houston. It will also provide KFSHRC's physicians with access to world-class experts at HMH who will offer second opinions for patient diagnoses as part of HMH's Second Opinion program. 
H.E. Al Fayyadh said: "The executive administration of KFSH&RC regards the MoU HMH as an excellent opportunity to improve our services, particularly at a time when our organization is undergoing major transformations in the near future. We trust that our partner organization in this MoU aims to set a global standard of excellence in patient-centered care, education, training, and clinical collaboration, and we believe it to be fruitful for both of us to share our knowledge in order to attain our objectives."
Noting the importance of the long-term partnership, Ms. Easter commented: "We are grateful to all those who have contributed to the long-term success between our organizations as we embark on a new chapter for the healthcare industry in the Kingdom. We look forward to our continued collaboration with KFSHRC and building on the ongoing results of our efforts in the local medical sector as we work towards improving the exchanges between our healthcare organizations, physicians, nurses, administrators, patients and more."
Dr. Al Fayyadh and Ms. Easter discussed the future of their affiliation and several ways to further progress the local healthcare sector through this collaboration. Ideas for exchange programs for nursing staff in Houston were also mentioned, as the two parties elaborated on their vision to continue progressing patient care and health service delivery at KFSHRC.
Both KFSHRC and HMH have been recognized as leading experts in the healthcare industry for a number of years. The relationship between the two institutions began in the 1970s and was reignited in 2009 to explore new opportunities and enhance the Saudi healthcare industry. The MoU was renewed in 2009, 2012, 2015, and now, in 2018.