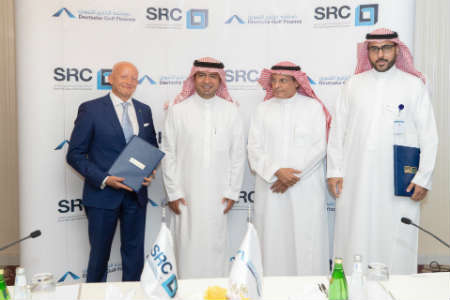 SRC and DGF signed a partnership agreement which consists of a portfolio purchase programme and short-term financing facility, providing a mortgage refinancing facility totaling SAR2.25 billion
DGF secures access to the funding it requires to implement its ambitious development plan targeting affordable mortgages to citizens.
SRC continues its emerging role as a catalyst to boosting the Kingdom's secondary mortgage market
Riyadh, Saudi Arabia; 21 July 2019: Saudi Real Estate Refinance Company (SRC) , a subsidiary of Saudi Arabia's Public Investment Fund (PIF) and Deutsche Gulf Finance (DGF), announced today that they signed a partnership agreement. As part of the partnership agreement, SRC will regularly acquire portfolio of mortgages originated by DGF, thanks to a portfolio purchase programme as well as a short-term Murabaha financing facility that allows warehousing the loans. The programme will be deployed over the next 12 months.
The strategic agreement was signed by SRC's CEO Fabrice Susini and Mohammad Al Dowesh, acting CEO of DGF at a press conference in Riyadh. DGF, after the agreement, will increase its offer of long term, fixed-rate (LTFR) mortgages with a maturity of up to 25 years, providing citizens with stability and safety throughout the tenure of the loan.
The partnership agreement is a testament to SRC's commitment to injecting more liquidity into Saudi Arabia's housing market, as well as ensuring the stability and growth of the Kingdom's secondary mortgage market.
Commenting on the signing, Fabrice Susini said: "This agreement epitomises the strong and active partnership built with DGF. It is also a clear demonstration of our purpose, as well as our pledge to increasing home ownership among Saudis. While the housing market in the Kingdom is thriving, we must ensure that more Saudi citizens can afford homes. Through improved funding and liquidity conditions, we have started to reshape the market and to create the conditions of an effective secondary mortgage market in the Kingdom, therefore contributing to make home financing more accessible to aspiring Saudi homeowners."
The partnership agreement follows SRC's recent announcement on reducing rates by 40 basis points (bps) for its long-term fixed-rate (LTFR) mortgages, and extending its maturity offering till 25 years. This is the second rate decrease in less than three months with the previous one amounting to approximately 100bp.
Mohammad Al Dowesh, acting CEO of DGF said: "This agreement reflects the ongoing cooperation between the two companies in terms of achieving the objectives of the Kingdom Vision 2030 in raising the percentage of suitable housing ownership among the citizens. Today, we sign this Partnership Agreement as an extension of the series of initiatives aimed to develop the housing sector and providing the best financing solutions suitable for borrowers."
As result of the agreement, DGF will reduce its rates by 36% as a show of commitment to provide affordable housing solutions to the citizens of Saudi Arabia.
SRC aims to refinance 20 per cent of Saudi Arabia's mortgage market that is forecast to grow to SAR500 billion by 2020 and to SAR800 billion over the next ten years. Since its inception in 2017, SRC has been working relentlessly to promote the development of the housing finance market, as well as standardization within the sector and the development of best practices.