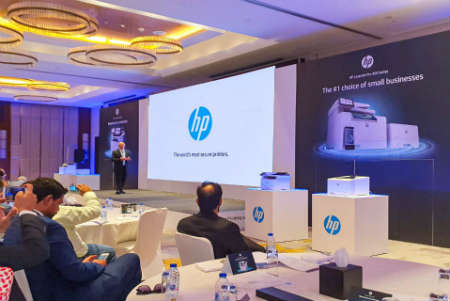 HP Inc. (NYSE: HPQ), the global leader in printing, today unveiled its next wave of Office Printing innovations empowering partners with seamless integration into the modern workplace. 
"We continue to lead and innovate around products and solutions for our partners – no matter where they are in their journey with HP," said Narayanan Venkataraman, Managing Director of HP Saudi Arabia. "Our robust portfolio – with smarter solutions and services, security, and the strongest printer and MFP lineup in the industry – is evolving, delivering on what businesses need today and in the future." 
Highlights
New solutions and services illustrate company's commitment to growing contractual channels, growing A3 and A4 categories

Expanded portfolio of managed LaserJet A3 and A4 devices 

New EcoSmart LaserJet, the world's most efficient printer with EcoSmart black toner for lower melt temps and less energy consumption

Industry-first accomplishments including Cartridge Access Control, Predictive Sensors and Fixed tray guides enabling managed partners to increase their services margin

Devices feature best-in-class security with new SOL firmware 
Smarter Solutions and Services 
At the heart of HP's innovation announcement, is a suite of enhanced solutions and services that improve the customer experience.
JetAdvantage Apps

: A simple to use toolset for the creation and deployment of cloud-based document workflows. JetAdvantage Apps enable's HP approved resellers to customise how HP MFP's support a user by providing a personalised set of services aligned to their individual way or working – saving businesses time and money by making paper information as simple to handle as digital data.

HP is on track to provide the broadest range of workflow integrations with 35 apps and 200 development partners

. 
Smart Device Services (SDS):

Cloud-based, HP SDS technology dramatically reduces service costs, maximises device uptime and delivers an exceptional service to millions of devices around the world.

Partners who have adopted the SDS solution are reporting average service cost reductions of 15 percent

. SDS can

remotely resolve some problems and arms service techs with the information to achieve 5-10% higher first visit fix rates, often achieving 95% of first visit fixes.

SDS can now predict failures of key components just before they happen, enabling a fix before the device fails, giving users a no-downtime experience

. 
The Print Security Leader
According to a recent HP study, while 83 percent of respondents had secured their PCs, and 55 percent their mobile devices, only 41 percent had either network security, access control, data protection or end point security on their printers. With this in mind, more and more RFI and RFQs are increasing their requirements for print security, an area where HP's leadership in security solutions and standalone services give partners a winning edge. HP is the only print company that meets NIST requirements for cyber resiliency, has a Bug Bounty program and an embedded inbound and outbound malware monitoring system with self-healing capabilities. 
HP is the only print vendor with SD-PAC Certified firmware and software

with robust and secure software development lifecycle best practices incorporated into a solutions' design, development and testing. Certification includes HP FutureSmart firmware, HP JetAdvantage Security Manager, HP Access Control, HP JetAdvantage SecurePrint and HP JetAdvantage Insights. 

Extending HP's commitment to partner-focused security training, certification and sales tools, HP is now expanding sales tools to easily assess customer endpoints, develop proposals and build out revenue-generating security practices.

To date, HP has delivered security training to more than 700 partners.

Get endpoint security certified now

and

request access to the security assessment tools

. 
Even Stronger Multifunction Printer Portfolio 
Today, HP is also debuting the strongest multifunction and copier printer lineup in the industry, a portfolio that minimises users' time to manage and deploy productivity solutions.
Reinvigorated A4 Portfolio further extending our offerings.

Updated 400 series features best in class security, with new SOL firmware and best carbon footprint in class, delivering18- 22% energy savings with new toner vs. predecessor.

500 series delivers 30% improvement of energy efficiency over predecessors

600 series features industry-first accomplishments, enabling our managed partners to increase their services margin:

Cartridge Access Control – or Locking toner cartridges, ensures all toner is used before a cartridge is replaced

Predictive Sensors combined with cartridge access control can save partners an incremental 12% in service costs

Fixed tray guides – help reduce a managed partner highest call generator – paper jams – by 25%

New HP EcoSmart LaserJet joins HP's environmentally aware printer portfolio as the world's most efficient LaserJet printer with the lowest energy consumption – with up to 29% more energy-efficiency than its predecessor. HP EcoSmart black toner – for lower melt temps and less energy consumption –arriving on the 400 and500 series monochrome LaserJets.
Refreshed and Expanded LaserJet A3 Portfolio

Expanded LaserJet 700 and 800 lineups with new models designed for SMB customers, featuring the industry's strongest print security to help protect customer's devices, data, and documents. 

New LaserJet A3 printers – with both Enterprise and contractual Managed versions (M751 & E75245) – are the first A3 LaserJet single function printers featuring energy saving JetIntelligence toner technology. 

Enhanced firmware features to complement our growing hardware portfolio and address the copier market, including individual user quotas for embedded job accounting, advanced copy features, and configuration cloning to simplify fleet installations. 
Availability
The new HP A4 EcoSmart LaserJet 500 and 600 series and expanded A3 LaserJet 700 and 800 series and HP's Reinvigorated A4 400 series will be available through qualified channel partners, or directly through HP.