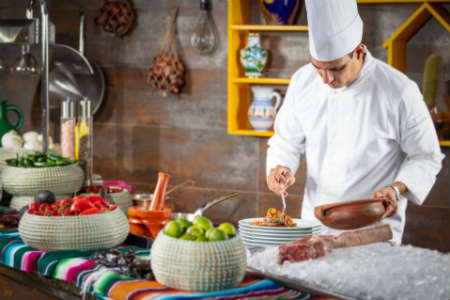 September has come again with a new iteration of the Mexican Gastronomic Festival at InterContinental Hotel. This time, led by renowned chef Aldo Servin, Executive Chef at "Traspatio Restaurant" in Los Cabos, Mexico.  
Mr. Tariq Dowidar, Area General Manager for IHG Government Hotels, said he was happy to be able to bring to the Kingdom this cultural experience once more. He added that the festival will take place in Al-Bustan Restaurant of the InterContinental Riyadh from 7:00 p.m. to 11.30 p.m. daily from September 16 to 22.
The Chargé d'Affaires of the Embassy of Mexico in Saudi Arabia, Min. Eduardo Hector Moguel Flores addressed the attendees of the opening ceremony: Saudi officials, Ambassadors, special guests and members of the media alike. He reminded the guests of the deep cultural heritage that exists in Mexico. Starting with its millenary history, combined with its cuisine and Mariachi music. These last two attained the UNESCO's 'Intangible Cultural Heritage of Humanity' status.  
For the second time in a row, the Embassy of Mexico and the Intercontiental Riyadh have partnered to bring along the Mariachi band "Mariachi Semblanza" to perform live and entertain those who attend the food festival. 
"Just two days ago, in Oud Square, the Mariachi gave a flash-mob performance, captivating the attention of around 100 people, mainly Saudi youth", said the Mexican diplomat. "It is tangible the interest of the Saudi population on other countries' cultural expressions", he added.