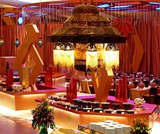 While Muslim scholars are expecting the upcoming Holy month of Ramadan will be the longest and hottest in the last 33 years, Riyadh's leading ultra-luxury hotel, Al Faisaliah Hotel, A Rosewood Hotel, promises guests cool comfort and convenience at Iftars and Suhoors.
In what has become a much anticipated annual tradition during the Holy Month of Ramadan, the hotel has transformed the impressive Prince Sultan Grand Hall (the largest column free space in the Kingdom) into splendid Arabesque surroundings of Fawanees to welcome guests to break the fast and relax in comfort and style.
"Al Faisaliah Hotel is honoured to have established a tradition that resonates with our Riyadh community as strongly as Fawanees does. With a feast for the senses at every turn, Fawanees offers a spectacular setting for Iftar, unrivalled personalised service and a range of gourmet cuisine that knows no match in the city," said Alex Pichel, Managing Director of the ultra-luxury Al Faisaliah Hotel and Al Khozama Hotel in Riyadh.
The Iftar menu created by the hotel's celebrated chefs caters to every culinary taste and preference. Choices include the finest traditional Arabian fare – lentil soup and wide range of tagines, whole hammour fillet Sayadia with onion and pinenuts, and Saudi Arabia's celebrated lamb Kabsa, Jareesh, Mataziz, Gorssan and Marqouq, as well as an array of international dishes from almost every corner of the globe such as Alaskan king crab seasoned with curry leaves and beetroot chips, and tataki of hammour crusted with coriander and seaweed. Live cooking stations offer the freshest and finest, and a buffet selection that includes hot and cold mezze, salads, shawarmas, Pasta and Arabic sweets ensures the most discerning palates will be satisfied.
For Suhoor during the Holy month of Ramadan this year, the truly iconic landmark on Riyadh's skyline and the most prestigious fine dining destination in the Kingdom – The Globe, will offer guests a unique setting and diverse gourmet cuisine including the finest Arabic and international cuisines from chicken Tajin with lemon and olives, to mixed grill with Omani lobster and shrimp.
Adding to the atmosphere of Ramadan, Al Faisaliah Hotel has partnered with renowned brands in the Kingdom to give away special surprise gifts to lucky guests. Partners include: Saco, Alo Car, Emirates Bank, General Electric, Al Argan, Archimedia, Rotana Khalijia, Rotana Magazine, and Sony.
 "There is truly no better place to enjoy Ramadan in Riyadh than at Al Faisaliah Hotel. With wonderful settings, extensive Iftar and Suhoor menus, and prayer areas and children's entertainment options, family and friends are guaranteed the finest Ramadan experience.
"For groups from 10 to 1,600 people, Al Faisaliah Hotel continues to deliver an extraordinary Ramadan experience. We look forward to welcoming our guests and to enhancing their Iftar and Suhoor experiences this year," said Alex Pichel.
Iftars in Al Faisaliah's Fawanees in the Prince Sultan Grand Hall will be held daily during Ramadan from Magreb prayer until 8.30pm. The Iftar buffet, which includes unlimited soft drinks, water, and Ramadan cocktails, is SAR 320 per person. The Suhoor buffet in The Globe is SAR 320 each drinks inclusive, and meals are available from 10:30 p.m. until 4:00 a.m.
For large groups wanting to break the fast in a more private setting, Al Faisaliah offers its exclusive Al Omsiat Ballroom Iftar and Suhoors.  Groups of 100 to 1600 people can enjoy the diverse Iftar and Suhoor buffet in majestic settings highlighted by custom woven carpets, ornate chandeliers, and polished marble accents for a one-of-a-kind experience.
To make a booking for Iftar or Suhoor, telephone +966.1.273.2222 or email: alfaisaliah@rosewoodhotels.com.